Welcome to SorachanCoin [Sora neko (SORA)]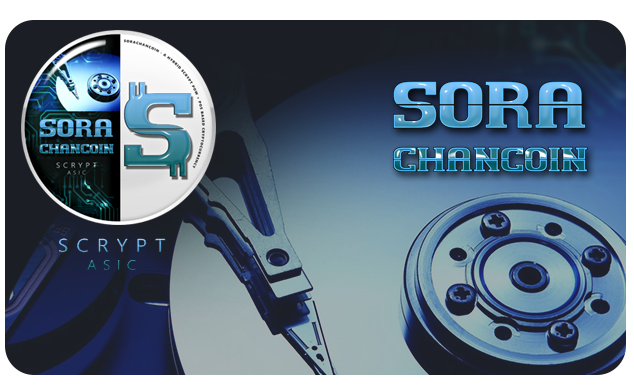 Sora-chan: my name is Sora-chan. it's a hybrid(PoW/PoS) cat. Sora neko!
What is SorachanCoin [Sora neko (SORA)] ?
When using a personal computer, data backup is always a concern. Especially recently, online storage has been charged fee one after another, and we think that many people have returned to the local environment.
There is "S.M.A.R.T.", the state of the drive seems to decide. However, if you believe in this system, you will almost certainly lose data without being able to back up. This is because this indicator does not denote the correct one.
We have not find broken indicator for over 17 years. Then, there is nothing to expect and we came to result in that we can not trust "S.M.A.R.T.".
Therefore, by utilizing the "inspection" that has no choice but to surely produce results, the mission of this Blockchain is to try to derive the predicted information.
Let's download latest version from here and run with "administrator privileges".
Then, you click "[SORA Network] Drive Benchmark feature" at the bottom of "Recent transactions" in OverView.
The benchmark feature will begin!!
This wallet aims to the "fusion" of these features and ... Blockchain.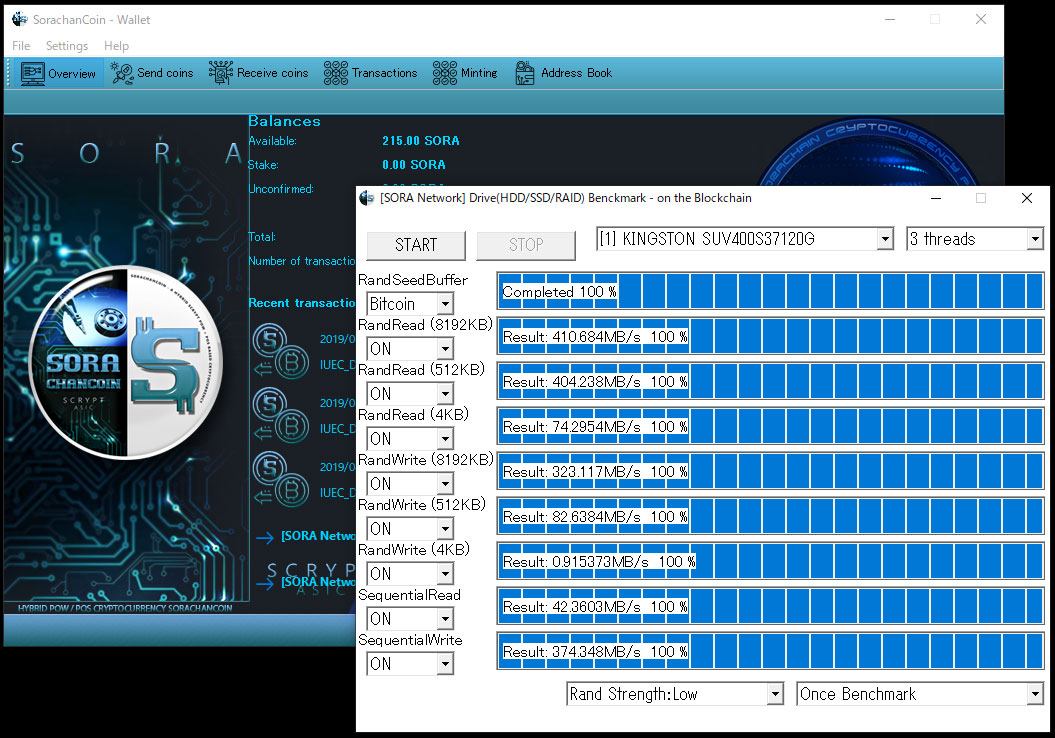 How to use? How to mining? Nodes?
How to use?
./download/usage.html
How to mining?
./mining/pow_pool.html
Nodes?
./addnode/index.html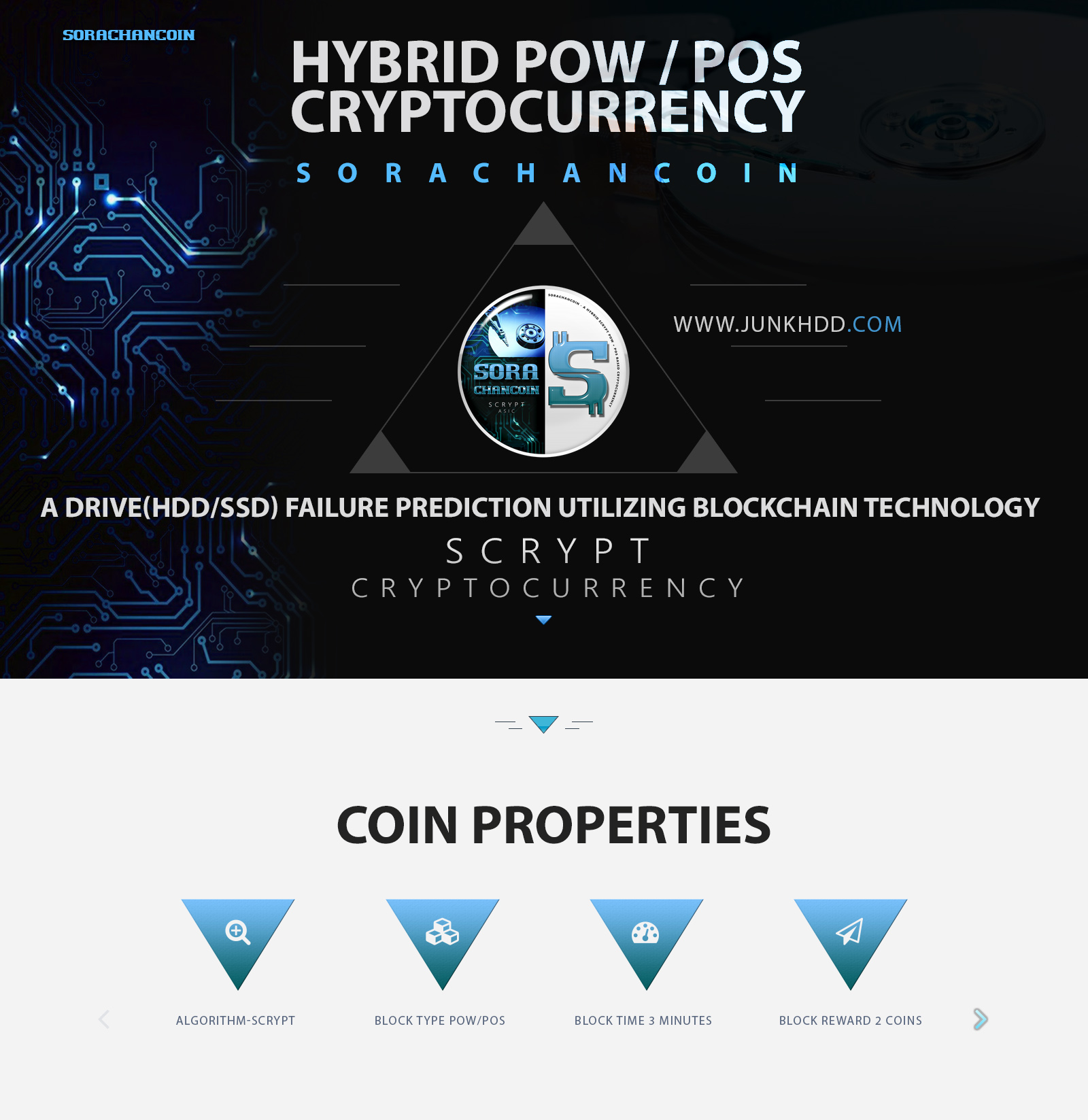 How to build?
Linux/UNIX
./autogen.sh
./configure
make
Require library: libtool, autoconf, unzip
(sudo apt-get install libtool, autoconf, unzip)
"SorachanCoind" will be generated under ./src
Windows/Mac
SorachanCoinQ-qt.pro set GUI_MODE flag 0 or 1
qmake
make
Require library: Qt

[Hardfork PoW] We will replace from Scrypt to Lyra2REv2
We will intend to replace hash from Scrypt to Lyra2REv2.
We confirmed GPU mining in Lyra2REv2 by GeForce GTX1080ti with Blockchain in testnet.
BlockExplorer [mainnet]
from PoW[Scrypt]/PoS to PoW[Lyra2REv2]/PoS
until 549999 block: Scrypt, after 550000 block: Lyra2REv2
https://sora.junkhdd.com:7350/
BlockExplorer [testnet]
from PoW[Scrypt]/PoS to PoW[Lyra2REv2]/PoS
until 1494999 block: Scrypt, after 1495000 block: Lyra2REv2
https://www.night-rescue.com/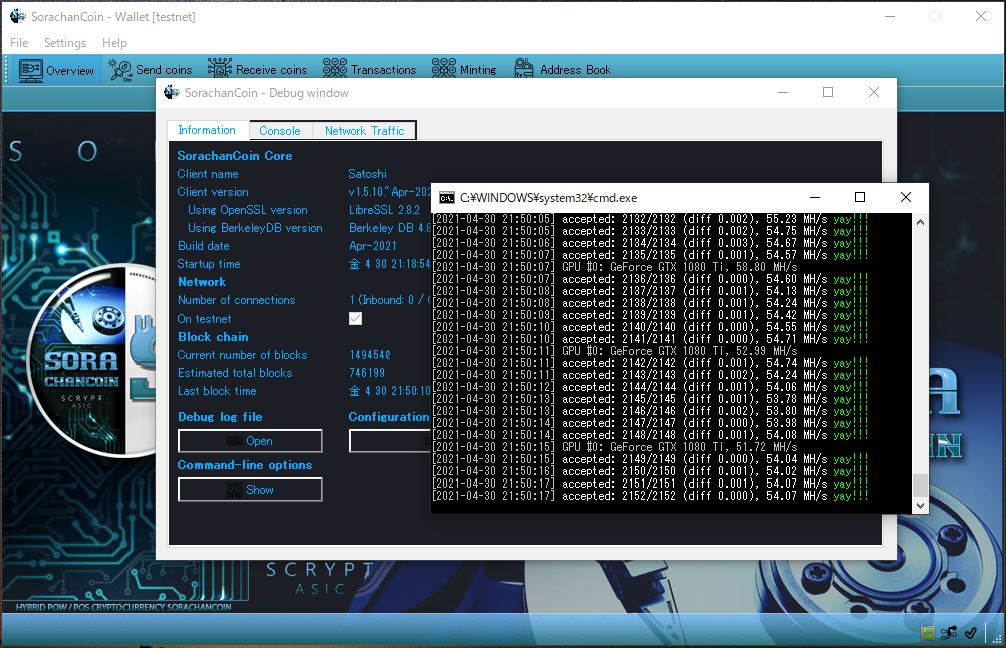 Read map
using wallet version, replaced from BerkeleyDB to latest SQLite.
then, we will implament drive failure prediction network!!
v3.10.10 (release 26-Apr 2021)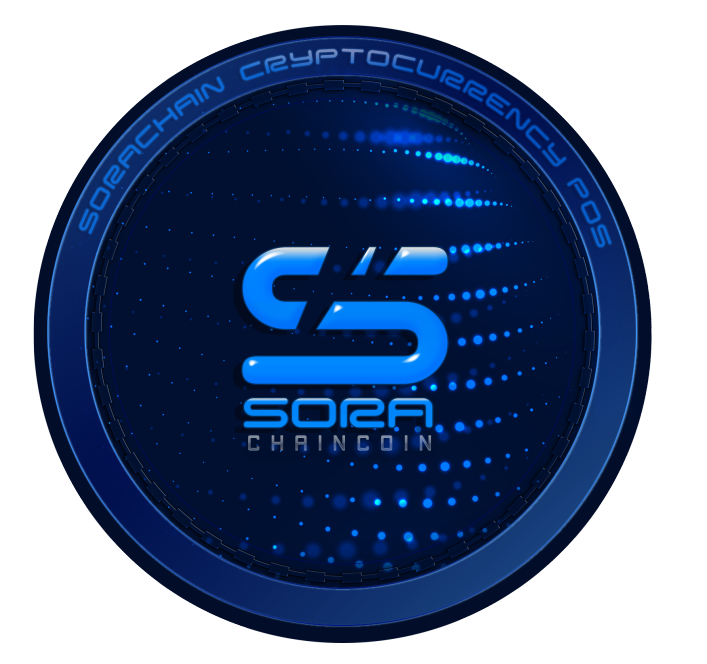 v3.5.10 (release 22-Mar 2021):
using Wallet version:
replace from BerkeleyDB to latest SQLite (SQLite v3.35.0 Mar-2021)
* Wallet balance transfer is "fully automatic".
Therefore, all you only start wallet as usual.
The message "Data migrating from BerkeleyDB to SQLite" will appear during startup, and the migration will take place during this time.
* BerkeleyDB version wallet name is "wallet.dat", SQLite version wallet name is "walletsql.dat".
Benefits of SQLite (A to D):
A, Since the SQL syntax does not change depending on the version, the latest version is always available.
therefore this will increase mobile affinity.
B, Since we can implement the delayed writing by self, which is used for writing the wallet, we can surely implement the secure allocator.
C, Writing to disk by flash can be performed reliably at intervals of 3 seconds.
D, SQL statements allow as further expansion of data structures.
v3.5.10, v3.6.10: implemented LATEST SQLite Database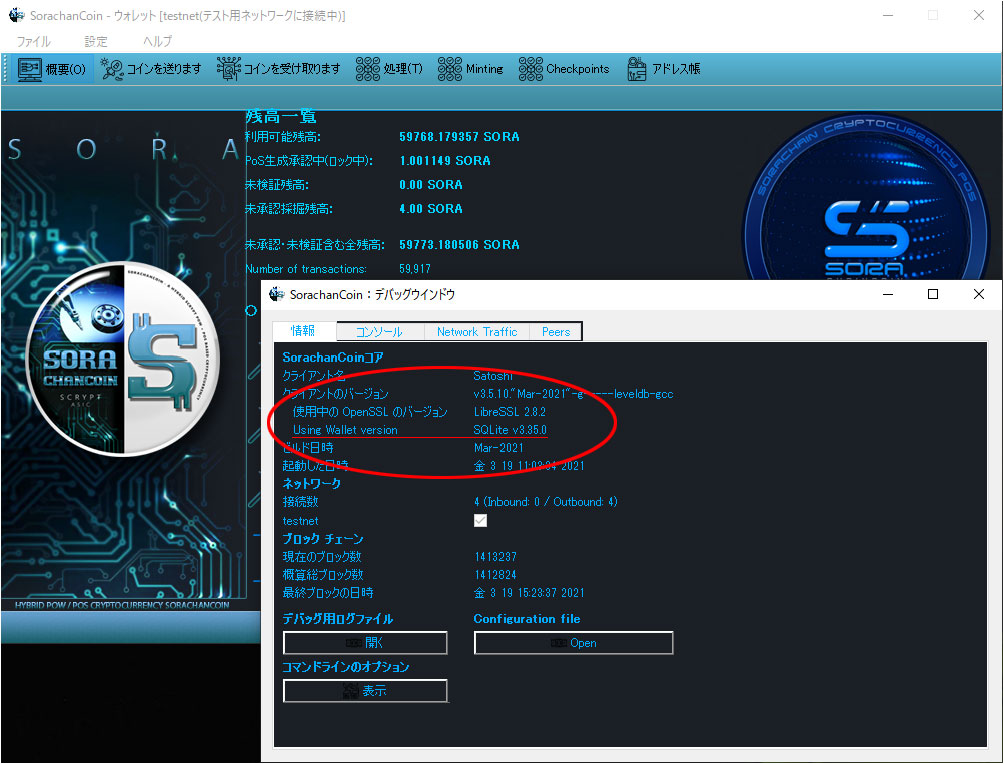 v3.4.10:
We have implemented automatic(dynamic) checkpoints that improve the stability of the blockchain.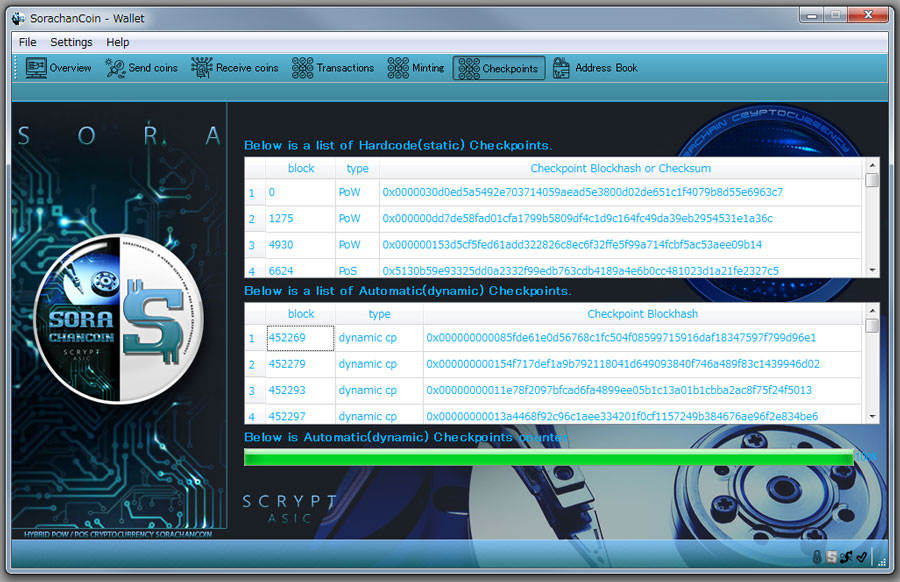 v3.3.10: implement sync window.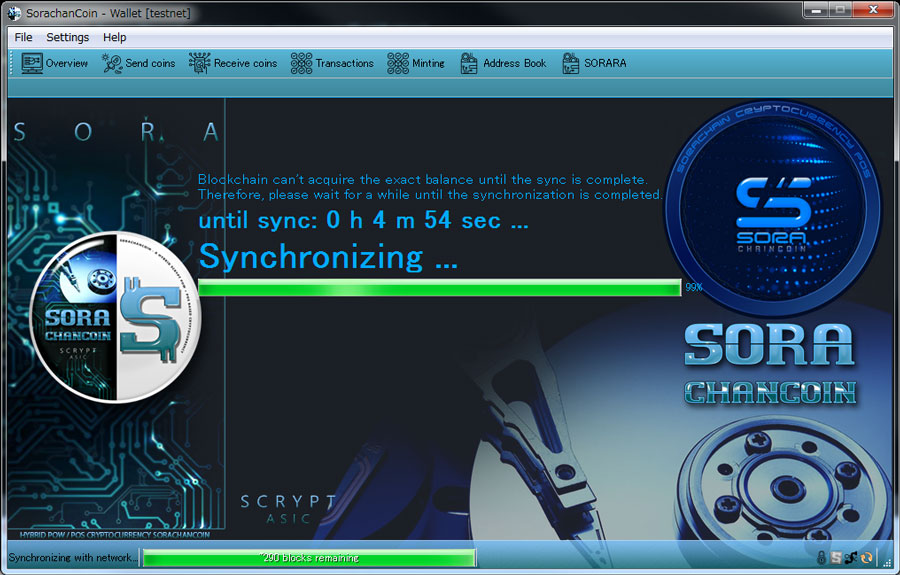 v3.2.10: implement Peers tab.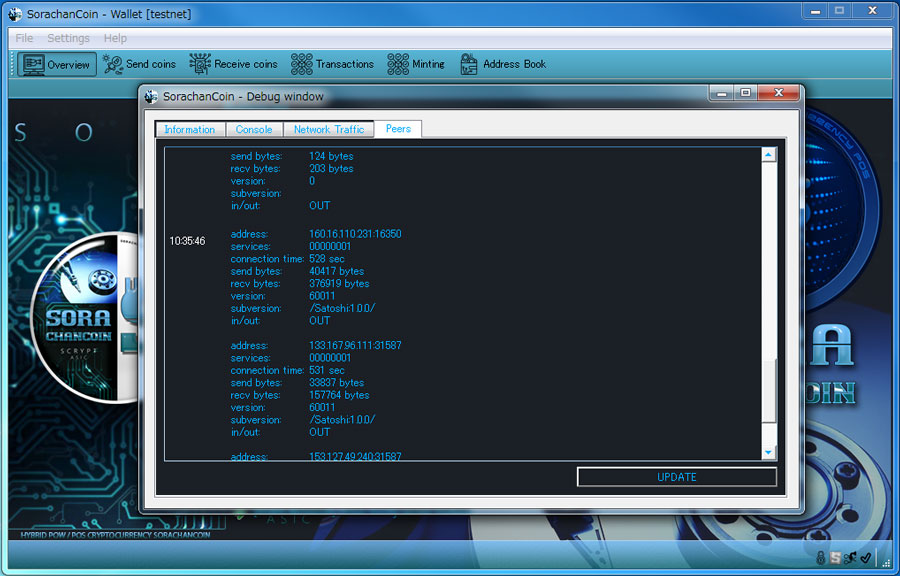 https://github.com/FromHDDtoSSD/SorachanCoin-qt/releases
v3.1.10:
We implemented mini window. (option -miniw)
We have realized resident software, lightweight then minimal window.
(e.g. SorachanCoin.exe -server -miniw)

deposit address:
You will get the receiving address and copy the address to the clipboard.
unlock SORA:
Enter your passphrase in the editor below and click "unlock SORA",
exclusively for stake and start staking.
Minimize button:
This window is stored in the task tray.
This method is enough for checking balance, receiving coins, and staking.
Of course, if you remove the -miniw option, you will see usual Qt wallet. Both are built-in.
2021-Jan:
We will release of "SorachanCoin-Core Wallet" with a benchmark in wallet.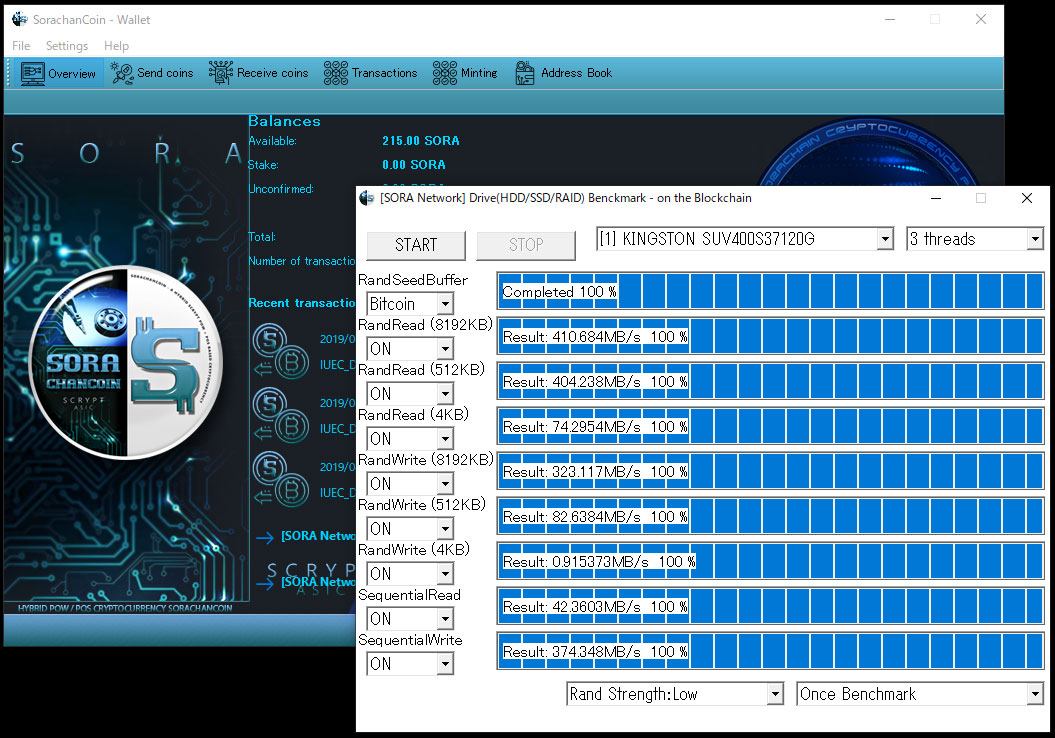 2020-Dec:
We will carry out a security-related review.
Windows version wallet: Ver 2.2.9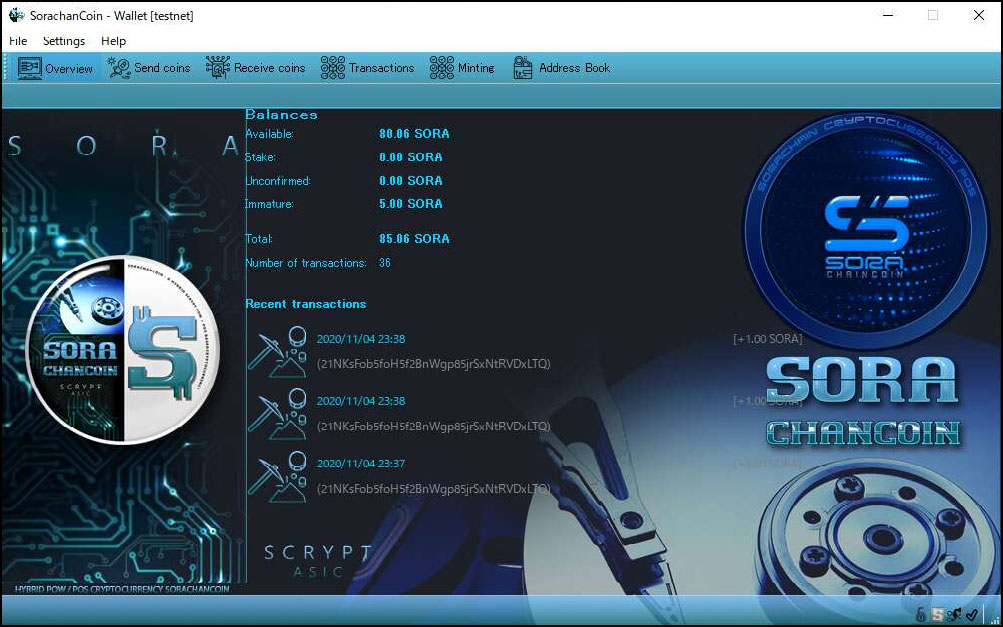 2019-Aug:
Wallet design brought to new.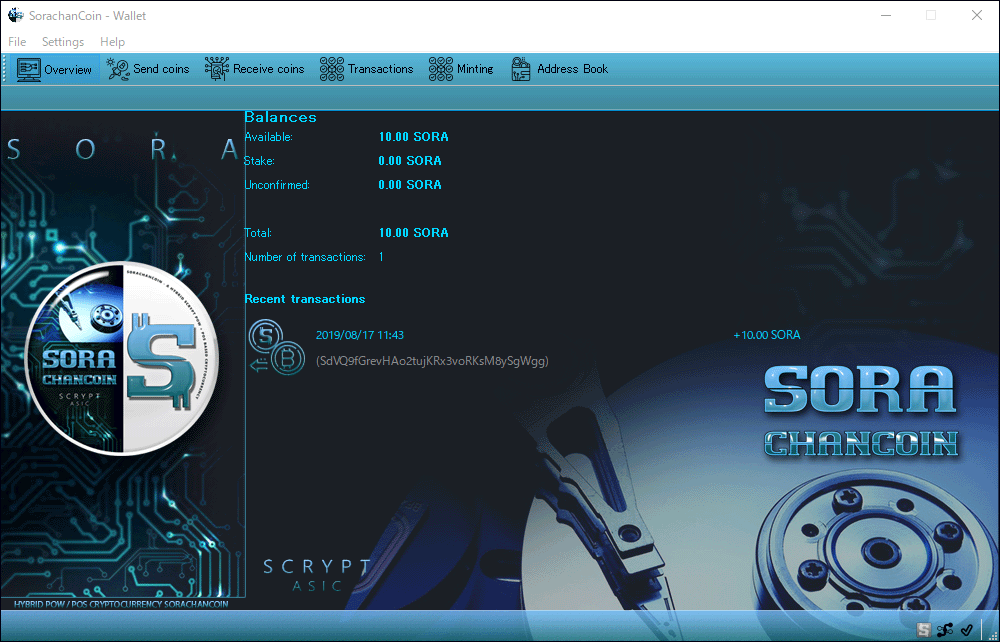 2018-Aug:
We released SorachanCoin Wallet Version 1.0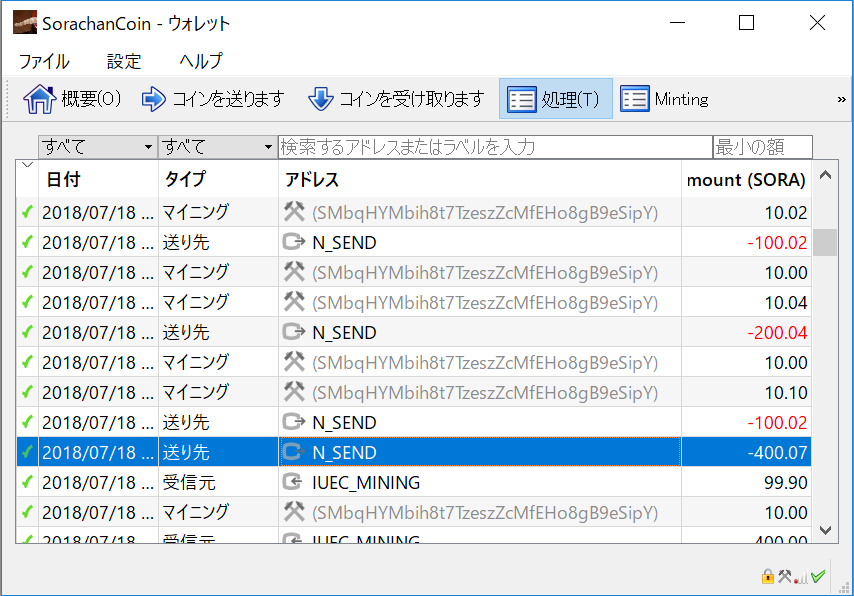 2018-Aug:
launch up Blockchain.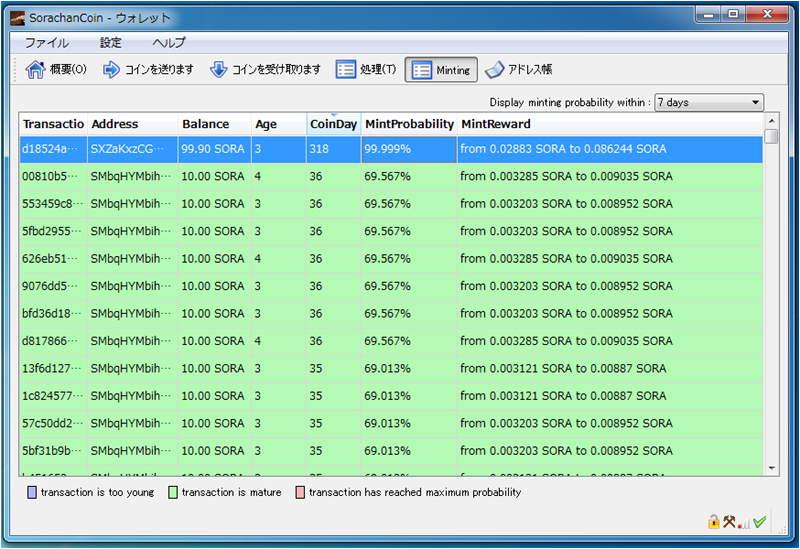 2018-May:
We have a idea for realized analyzing failure information to blockchain.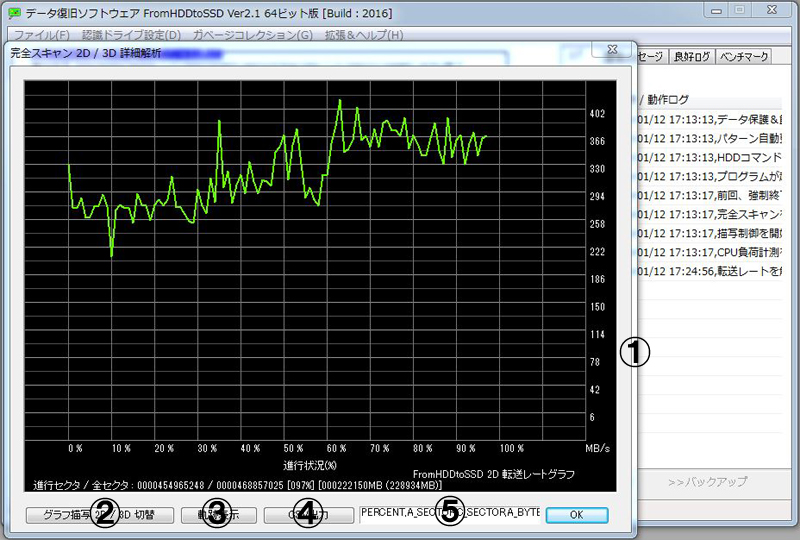 White paper
* About Project
The SorachanCoin Developers (in Japan)
TOKYO office:25-22 Iwabuchi-machi Kita-ku Tokyo, 115-0041
Saitama office:134-1 Kaminitte Honjyo-shi Saitama, 367-0007